Obituary for Walter J. Harrison Sr.
A Family Tribute
Walter J. Harrison, Sr. was born on June 9, 1925, in West Point, Mississippi. He left the earthly confines of his body on January 28, 2018 at the age of 92.
Walter J. Harrison, Sr. was preceded in death by his first wife Melissa Lenoir, his second wife of 60+ years Doris Nell Burnett Harrison; his parents, Jake and Gertrude Wilson Harrison; two brothers, Jake Harrison, and Wheeler (Bertha) Harrison; his eldest son Columbus (Gladys) Harrison; three daughters, Mary Helen Bradberry, Vanessa D. Harrison, Betty Harrison; and granddaughter, Lovella Ewing-Williams. He is survived by his children, Mary L. (Elbert) Davis, Jessie W. Burnett, Walter J. (Rhonda) Harrison, Jr., Alonzo (Renita) Harrison, Leon Harrison, Sr., all of Topeka, Kansas; Vernita Carruthers, Lisa Harrison-Shotwell (Larry), Jeanetta Pruit (George), Sandra Walker (Otis), all of West Mississippi; and Leslie Whitfield (Clarence), of Grand Rapids, Michigan; 50 grandchildren, 55 great-grandchildren, and 15 great-great-grandchildren, a host of god-children and grandchildren, nieces, nephews, cousins and friends.
Growing up poor in rural Mississippi, Mr. Walter J. Harrison (known simply as WJ to most colleagues and friends), started working very early in life. Although WJ loved to learn and sought out new knowledge and ventures, he was unable to attend school on a regular basis due to having to help pick cotton and plow the fields on the family land. As a result, WJ only received a 3rd grade public education. He worked in and at various ventures; from stacking lumber, and breaking wild colts, to working in the local war plants helping build armaments for the World War II war efforts. WJ also worked for the CCC (Civilian Conservation Camps) building roads, bridges and drainage structures. Young WJ Harrison worked at doing whatever it took to make his way in his Jim Crow controlled world, a world that prescribed early on in his life that hard and un-glamorous work would be the order of the day for most young southern black men.

WJ married Melissa Lenoir and had one son. The hard and unyielding times and limited upward mobile opportunities ended the relationship and they later divorced. WJ would later marry Doris N. Burnett, and start a family with her. Hearing the words of Horace Greely, "Go west young man, Go west," coupled with the restrictions of the deep south, WJ recognized that he could provide for his family better elsewhere. This revelation set him onto the path of entrepreneurialism. Walter Harrison, Sr. began hauling and selling ice to rural families and communities. He built a large customer base, and had to hire help in an effort to meet his growing demands. He soon however encountered issues from the Icehouse suppliers, and quickly realized that there were bigger and better options up North, away from some of the restrictive Jim Crow mandates and barriers that stood in his way.

Walter J. Harrison, Sr., with a third grade formal public education, worked tirelessly with great inner strength to be the very best he could be at every endeavor he pursued, living out his American Dream; a true Horatio Alger, up from rags to riches by pulling himself up by his own boot straps. As a result, self-reliance and hard work became his moniker.

Arriving in Topeka, Kansas in 1951 just after the great Topeka Flood, WJ believed he had entered into a freer working environment. While seeking to familiarize himself with his new home, he encountered new barriers. Although less obvious than those previously faced, these barriers proved to be just as prevalent, burdensome, and demeaning. Not wanting to be confined by others' standards, he started his own trucking business in 1958. Because of regional Jim Crow practices, he was unable to join the Teamster Union, so he unfortunately could not work many jobs in Topeka, however WJ did not let that stop him. When he could not haul locally, he hauled out of town. When he was told NO, he would always pursue YES.

Walter Harrison, Sr. endured the pain of slings and arrows hurled and shot at him through the years without becoming bitter and mean towards those who tried to hold him back. He was never discouraged by those who treated him differently, or by those who denied him access to certain opportunities. He always had that "can do" attitude, regardless of the obstacles. As a result, WJ's trucking business, later renamed to HDB Construction, Inc., grew into the premier trucking and heavy civil construction firm in the Midwest. Known as the Godfather of Trucking in Topeka and Eastern Kansas, WJ ran the most successful minority owned and operated construction trucking firm and heavy civil construction company in Kansas. He recently celebrated over 60 years of continuous operations with four generations actively involved in the family business.

For over Sixty years WJ has quietly built one of the most successful African American trucking and excavating firms between Denver, Colorado and St. Louis, Missouri. He and his company have largely been a part of making the Kaw River safe from flooding, they've helped build Crown Center in Kansas City, K-10 East of Lawrence, I-70 from Manhattan to West of Salina, 75 highway from Mayetta to the Oklahoma border, and Moonshine Beach in Branson Missouri. They additionally helped close/decommission over 100 minute men II missile sites at and around Whiteman AFB in Missouri. WJ's HDB just recently finished four years in New Orleans, building over five miles of flood protection on the Mississippi River, due to the aftermath of Katrina. Walter J. Harrison, Sr. and HDB have built and been a part of many more projects in their working footprint that spans from the Rocky Mountains to the West, to the Mississippi River on the East, and from the Dakotas on the North to the Gulf of Mexico.

Teacher, motivator, and mentor to nearly all minority and many current and former-trucking concerns in and around Topeka, WJ Harrison, Sr. rose early every day and went to bed very late at night working, and helping others work so they could control their families' destiny and chart their own course in life. Walter J. Harrison, Sr. never backed down from hard work, and he never let any obstacle get in his way. His philosophy was simple: always do the right thing. He simply wanted a "dollars' worth of pay for a dollars' worth of work." He refused to take short cuts, lie, cheat or steal. He was a hard worker, and if he took on your job he would not leave it until the work was done, and done right.

Walter J. Harrison, Sr. loved family. He always made time for his children, grandchildren, nieces, nephews, cousins, and friends. He always had a story for any and every scenario. Anytime you were around him, you were bound to hear a story about something, whether it was from his childhood, your childhood, or a random story in between. If you were lucky enough to take one of those coveted rides/road trips with him, you were in for a treat, because you'd get a collection of stories that were actually more like parables. It was never until later that you realized that every story told had a morality point to them. He was truly a special man who left a lasting impression on everyone who was lucky enough to interact with him on any level.

Walter J. Harrison, Sr. (WJ) was a true Living ICON of what a man ought to be.

IT IS NOTED BY MOST, THAT WJ WAS THE TYPE OF MAN THAT ALL MOTHERS WISHED THAT THEIR SONS WOULD GROW UP BEING, AND THE TYPE OF MAN THAT ALL MEN WISH THEY HAD BECOME.

WALTER JAMES HARRISON SR. 1925-2018
To send flowers or a remembrance gift to the family of Walter J. Harrison Sr., please visit our Tribute Store.
Previous Events
Visitation
Bowser Johnson Funeral Chapel
723 SW 6th Avenue
Topeka, KS 66603
Family will greet friends from 6:00 - 8:00 p.m.
Service
El Shaddai Ministries Community Church
920 SE Sherman Ave
Topeka, Kansas 66607
Cemetery Details
Location
Memorial Park Cemetery
3616 SW 6th Avenue
Topeka, Kansas 66606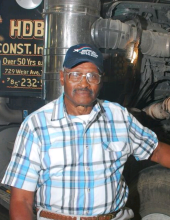 Thank you for sharing your
memory of Walter
Provide comfort by sending fresh
flowers from our local florist.
No thanks, please don't show me this again.